Undergraduate Internship Guide
---
Fashion Design and Merchandising offers two undergraduate degree concentrations: Design and Product Development Concentration and Merchandising Concentration. Students are required to complete professional internships in firms across the country and internationally to prepare students for high quality apparel-related positions. The junior and senior level focus on the student's career interests. Design and Product Development students intern with couture designers or in industry settings (not retail). Merchandising student internships may include marketing, store management, buying, sourcing, sales, merchandising, media and special events, fashion journalism, or consumer relations experiences. Unique internships in theatrical costuming, or in museums with historical costume or textile collections are also possible.
---
Download Internship Instructions
---
Meet Our Interns
Tamara Racine Beauchamp
Title: Marketing Intern
Company: V3Stent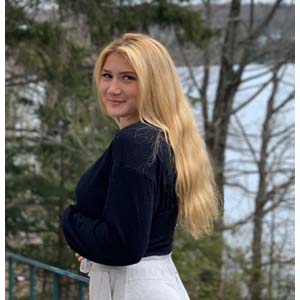 This past summer I interned at V3Stent in Montreal, Canada. The company offers the latest Artificial Intelligence technologies. Stent targets the right people at the right moment with the right message. Stent is more than a social selling platform, it's where data-driven intelligence meets human business intuition. I had various tasks including marketing, developing strategies, participating in meetings, collaborating with operators to find new strategies to target customers, and working on web pages for the products. I really enjoyed working as a group and finding ways to target and influence future customers. I worked closely with my supervisor, Sarah Miloges, about how we could combine her knowledge about marketing and business with my skills learned from MSU to improve the website and have a stronger influence.The website developed quickly and became very beneficial over the course of my internship. Four weeks into my internship, I was already more confident and felt included in the company. It really helped me understand what marketing jobs would look like and what a working atmosphere looks like. I am so thankful for the opportunity to be an intern at V3Stent. The experience was incredible. I was able to put my skills learned at MSU to use, meet wonderful people, and gain knowledge while working for such an amazing company.
---