Undergraduate Internship Guide
---
Fashion Design and Merchandising offers two undergraduate degree concentrations: Design and Product Development Concentration and Merchandising Concentration. Students are required to complete professional internships in firms across the country and internationally to prepare students for high quality apparel-related positions. The junior and senior level focus on the student's career interests. Design and Product Development students intern with couture designers or in industry settings (not retail). Merchandising student internships may include marketing, store management, buying, sourcing, sales, merchandising, media and special events, fashion journalism, or consumer relations experiences. Unique internships in theatrical costuming, or in museums with historical costume or textile collections are also possible.
---
Download Internship Instructions
---
Meet Our Interns
Abigail Nichols
Title: Intern
Company: Red Land Cotton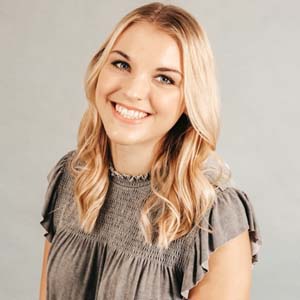 During my time at Red Land Cotton, I worked at the cut and sew factory located in Tylertown, MS. My primary focus was to increase productivity and quantify the potential within the plant. I had daily phone calls with my supervisor to discuss the plans for the day and findings from the previous day. I conducted time studies to associate a SAM (Standard Allowed Minute) to each operation to understand better how many items each operation could produce. With this information, we were able to increase productivity on an individual level. I created Excel spreadsheets to track this data and compute SAM. Through the system, we have increased overall plant productivity, track operator consistency, and see monthly output. I also used Excel in tracking inventory, yardage cut daily, and yardage remaining in the plant to project date of no fabric. Another task I was challenged with was to maximize the full length of the cutting table. Through much calculation, I was able to identify how many of each sheet size could fit on the table to create the most efficient spread. These findings alone increased production by 15%.
I had the privilege of traveling to Moulton, AL, where the cotton is grown and ginned, as well as where Red Land Cotton's storefront is located. During my time in Moulton, I was able to visit another cut and sew location where they hand tear each individual sheet and pillow. I also created a PowerPoint on Tylertown's potential in the growth of Red Land Cotton. When I first started at Red Land Cotton, they were packaging and shipping on average 200 sheet sets per week. Now, Tylertown packs and ships more than 600 sheet sets, with hopes of being able to ship up to 900 sets a week. It has been an amazing experience to watch this plant grow into its fullest potential. My overall experience with Red Land Cotton was rich in knowledge and eye-opening. I learned about the supply chain and what it truly takes to run a successful business. The one thing that set this internship apart for me was the opportunity to work so closely with the Company Owners and my daily supervisors.
---