Undergraduate Internship Guide
---
Fashion Design and Merchandising offers two undergraduate degree concentrations: Design and Product Development Concentration and Merchandising Concentration. Students are required to complete professional internships in firms across the country and internationally to prepare students for high quality apparel-related positions. The junior and senior level focus on the student's career interests. Design and Product Development students intern with couture designers or in industry settings (not retail). Merchandising student internships may include marketing, store management, buying, sourcing, sales, merchandising, media and special events, fashion journalism, or consumer relations experiences. Unique internships in theatrical costuming, or in museums with historical costume or textile collections are also possible.
---
Get Experience
What is an internship? Why is an internship important?
An internship experience provides the student with a practical work opportunity to explore career interests while applying knowledge and skills learned in the classroom in a work setting. The experience also helps students gain a more definite sense of what they still need to learn and provides an opportunity to build professional networks. It is a planned educational experience, usually completed in a summer for a minimum of 8 to 10 weeks agreed upon between the student, the employer, and the university. Fall and Spring internships can only be completed if a student has completed all other coursework. Internships may be paid or unpaid and the student will receive academic credit with approval from the FDM internship coordinator.
---
Download Internship Instructions
---
Meet Our Interns
Gabrielle Martinez
Title: Technical Design Intern
Company: Vineyard Vines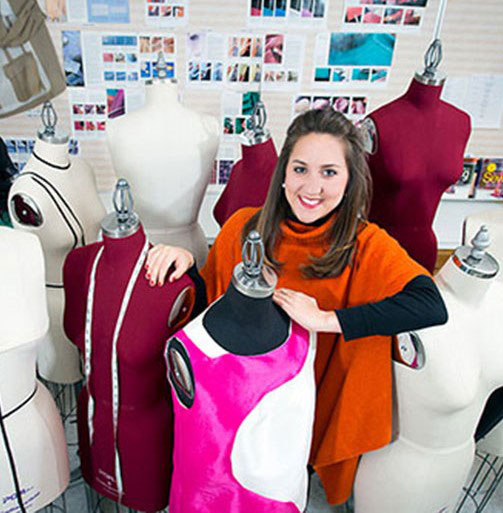 Last summer, I was privileged enough to go to Connecticut and work as a technical design intern for Vineyard Vines. Everyone in the company was so warm and welcoming, and as a member of the technical design team, I was able to work closely with both the design and the production departments to bring original fashion designs to life. Without a doubt, the best part of the internship was being able to actually do the work. I was given two projects through the course of the summer, one where I would work with the other interns to present new ideas to the entirety of Vineyard Vines, and the other where I was able to craft my own design for review and experience the entire product lifecycle. The technical design team really encouraged me to take on more responsibility and to take ownership in my work, which is an invaluable opportunity for a young professional in the industry. It gave me the confidence and assurance that I could do it, and when my original design was accepted for an upcoming line, I saw that I was right!
---